THE STORY OF DUSDEE

I receive emails all the time from Bichon people, telling me about there beautiful Bichon or Bichons, it is fun to get email from others and hear about THEIR Bichons personality which is always stories about a joyous, bouncy, entertaining little white powder puff *people*. I have to laugh as they all think their little dog has this unique personality, but this is really the true description of the Bichon personality, you will always see the Bichons in the show ring with there front paws up on their handlers or owners, *snickering*, and there isnt much one can do about it... its born in them..
Anyway, one day I got this this letter and it was quite different from all the rest, it was a story that made me ill, but that also made me cry and smile with happiness as it has a wonderful ending... I thought I would share it with you. Breed Rescue is an important issue and is taken very seriously by individual Dog Clubs and Breeders alike.
DUSDEE'S STORY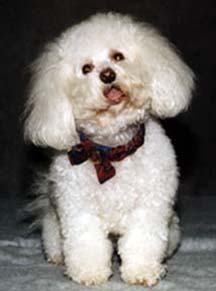 On May 27th, 1993, I opened my newspaper at 6am and there was the ad: Free to good home....6 month old Bichon Frise female. My heart quickened. I had been grieving for the past several months over the unexpected loss of my 11 year old Bichon, DanDee, and now: Call any time... Anytime?? It was 6am! I waited an hour and dialed. The woman on the phone said that the puppy had been diagnosed and treated for parvo in February. Her other dog, a poodle, was very aggressive and thought it best that this puppy find a new family. There was someone already on the way over to have a look at "Dusty", and after I pleaded with the woman, explaining that I had been owned by Bichons for years, and now had one at home who missed having a friend to play with, she consented to hold the puppy for me if I could get there by 1pm.
My husband and I decided to take our Tinee along with us to see how the two would interact. I could hardly wait to get there, anticipating a small white fluffball of energy. What I saw when I finally got there put me into shock. This poor, emaciated little puppy was so pathetic and filthy, we were afraid to let Tinee near her for fear of some contagious disease. My husband just looked at me and gently shook his head "no"! I picked her up, feeling this little one could drop dead any minute. Why hasn't she been taken to a vet? The woman said that the vet told her that the puppy was recovering and needed tlc. I noticed a cheap supermarket brand of kibble in a dog dish, and was told that "Dusty" was a horrible eater and she was getting thinner and thinner everyday. My heart was broken. How could I leave her? I had held her, felt her life draining, yet in her eyes, I saw life and the need for love.
I cried all the way home, feeling as if I had abandoned her to die with uncaring people. Over the weekend, I dreamed of her barking for me and looking down the lane at the farm where she lived, as if she was calling me to take her.
After much discussion, my husband and I made the decision to go and rescue the puppy. If she was still alive. I couldn't help thinking that DanDee's spirit had sent this little sick puppy to us.
We took Dusty, now renamed DusDee to our vet that afternoon. But seeing what a deplorable condition she was in I first decided to bathe her. Three hours later, I finished. Her fur was so matted, that there were open sores all over her body. Scabs fell off her tail in my hand. Fluid oozed out of one of her paws where sand burrs were embedded. She weighed 2 1/2 pounds, had a terrible over bite and her bones were so brittle, they made cracking sounds when I held her.
The vet didn't hold out too much hope for DusDee. I knew I had to make a decision--let her go in the most humane way, or incur tremendous expense trying to save her. The blood and liver tests showed rare juvenile diabetes with liver involvement. Since I am a medical technologist, I felt I would be able to do a lot of the testing and treatments myself and save on the vet bills. Her sugar was over 400 and she was having seizures. I made the decision to try and do the near impossible - attempt to regulate her blood sugar and put her on a healthy diet. The magic added ingredient, of course, was love.
Regulating her was a nightmare. Her diabetes seems to be very brittle, having low blood sugars and then very high counts with no change in the treatment. She handled all the probing and needles like a brave little girl.
After consulting a vet, I have learned that diabetes insuch a young dog is very rare. There is so much more veterinary research needs to explore for these beautiful animals who deserve a second chance. DusDee recieves 2 shots of insulin a day and tolerates it very well.
DusDee has been a member of our family for over 3 years, and has come along way in that time. She now weighs 10 pounds and is lively and boisterous little furkid who has won the hearts of everyone. And we will never let anyone hurt or abuse her again. She will live as long as her little soul wants to and even though there were many times I thought I might have to let her go, the look in her eyes that said, "Please love me and let me love you" made me confident I have made the right choice.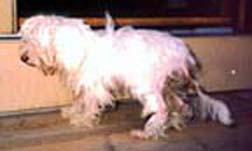 Dusdee before bath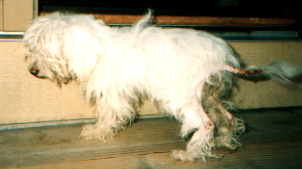 Dusdee after bath
Dee Hinkle is owned and loved by Dusdee, you can email her at dhinkle@kdsi.net

Email dated Nov. 4, 1996
WOW!! I cannot tell you just how much this has touched my heart.. As I sit here with tears in my eyes I relive the days of DusDee's rescue, then I look at her and laugh to think how she has proved all the vets wrong.
Thank you for making her a STAR!! Of course she has always been our STAR!!!
Touch a Bichon and you have touched a bit of heaven... Hold a Bichon and you have held the world.. Love a Bichon and you will love life forever... (author unknown)
Yes, we Have Touched heaven, Held the World and Will Love Life Forever.
Thank you our Beautiful Bichons DanDee, Tinee, and DusDee!
We love the page and thank you very very much!!!.........Dee Hinkle

HOT LINKS
HINKLE HAPPENINGS ..Dee and Glen Hinkle
WILLOW'S WACKY WORLD
STARLIT BICHON FRISE